Eerst volgende bezorg moment is
...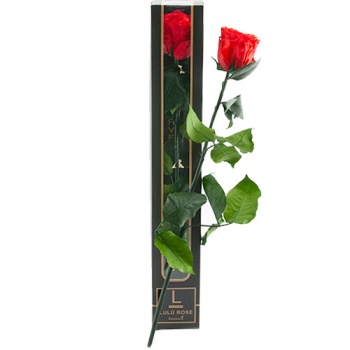 valentine lulu rose in luxery box
Beautiful red lulu rose in a luxury box, this rose will last for over a year!
The preparation of these roses is done exclusively with the best quality roses. The growers grow and harvest them tehmselves, after which they undergo a special prose in which the entire rose is taken apart and treated leaf by leaf. The enite rose is then reassembled by hand. As a result, they retain their natural beauty and look beautiful for over a year!
Make you suprise personal, add a valentine card
Delivery on Valentine's Day

Delivery also on sunday

Send anonymously

Will last for over a year
Back to overview Valentine bouquets
Delivery information Valentine's Day
Step 1
Select your product
Step 2
Card / deliveryaddress
Step 3
Your details / invoice address
Eerst volgende bezorg moment is
...
valentine lulu rose in luxery box
Beautiful red lulu rose in a luxury box, this rose will last for over a year!
The preparation of these roses is done exclusively with the best quality roses. The growers grow and harvest them tehmselves, after which they undergo a special prose in which the entire rose is taken apart and treated leaf by leaf. The enite rose is then reassembled by hand. As a result, they retain their natural beauty and look beautiful for over a year!
Make you suprise personal, add a valentine card
Delivery on Valentine's Day

Delivery also on sunday

Send anonymously

Will last for over a year
Back to overview Valentine bouquets
Delivery information Valentine's Day
Lees minder <